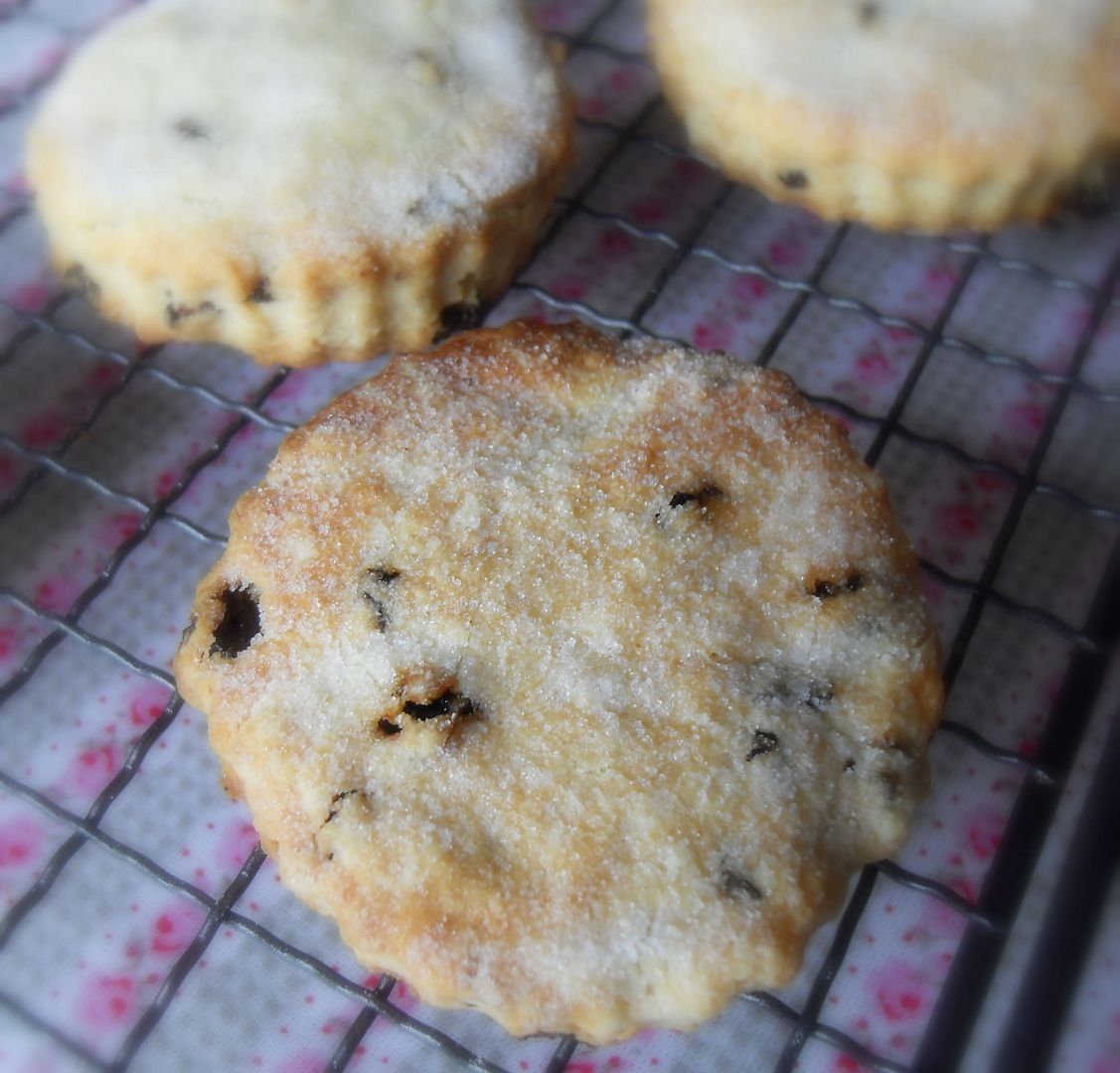 Fat Rascals! Had these at work. Thanks to Presidents Day cookie exchange.
According to a co-worker, these were Teddy Roosevelt's favorite cookies. Low in sugar and in the great tea rooms of Britain.
Fat Rascals

225g of plain flour sifted (2 cups)
pinch of salt
4 ounces butter, softened (1/2 cup)
40g of caster sugar (3 1/2 TBS)
50g dried currants (1/3 cup)
50 - 75ml (2 to 3 fluid ounces) milk and water mixed
more caster sugar for dusting

Preheat the oven to 200*C/400*F/ gas mark 6. Butter a baking sheet and set it aside.

Sift the flour into a bowl. Stir in the salt. Drop in the butter, cut into bits. Rub it into the flour until it is all rubbed in and the mixture resembles bread crumbs. Stir in enough milk/water with a fork to give you a firm dough. Pat out on a lightly floured surface to 1/2 inch thickness. Cut into 3 inch rounds with a sharp round cutter. Place on the prepared baking tray. Dust lightly with caster sugar. Bake for 20 to 25 minutes until pale golden.

Remove from the oven and carefully lift onto a wire rack to cool completely before serving.
From
The English Kitchen
!
ummmm...sweet potato fries.
We are trying to do more things as a group at work. Like Potlucks. Every great once in while, we go out for lunch. Try some of the local fare. So I mentioned to Caleb who lives next door to this bar and grill that we should get together. So we got together to go for some home style burgers. My brother's friend used to be a cook there. He went with us too.
Burger in a Bowl! Swiss cheese and mushrooms. My favorite.
Still damp and chilly about. Rainy. Hopefully, it won't turn to ice and snow, but that is usually our winter. A lot of cold and snow. Although, last night we were in a Tornado Watch. The Farmer's Almanac says we'll have lots of snow in March. I must be extra kind to Lars these days. The guy is working 6 days a week. Sunday is our FUN DAY.
Favorite Character on Downton Abby: Daisy
.
Yes, she is the lowest of them all, but I liked how far her character has came since the beginning of the show. You can't help but want more for her. Even if she were only married for 30 minutes. She's the cooks assistant.
Sophie McShera got her start at 12 in the play production in London of "The Good-bye Girl". She was Ros McCain on Waterloo Road.
Just what is Rob James-Collier's bad boy Thomas doing when he's not being a cad on Downton Abby? Hopefully, he's being sexy somewhere. He was the "stud" in SHAMELESS(UK version) and spent some time on Coronation Street honing in those acting skills. It was enough to award him several awards.
Sexiest Male award at the 2007 and 2008 British Soap Awards in addition to "Best Exit" at the 2009 British Soap Awards. Also won Sexiest Male and Best Newcomer at the 2007 Inside Soap Awards.
[on kissing Charlie Cox in Downton Abbey] "It's a dream job because it's completely the other side of the spectrum, particularly as it carries on. My character gets nastier." -Rob James-Collier
Wearing: Wet n' Wild's Megalast nail polish - THROUGH THE GRAPE FINE. Its a cheap thrill. But I love this color.